Seoul Attractions
The center of Korea, Seoul offers everything to delight its visitors. From cutting edge technology and trend-setting culture to remarkable history and traditions, from shopping centers to beautiful nature, Seoul's attractions colorfully come together to engage all five senses.
Top 10 Attractions
From old to new, explore all that the city has to offer. Visit the best shopping districts, the top historical sites, and the places with the best views of the city skyline. Whether you prefer modern architecture or the charm of the royal palaces, there is something for everyone!
Seoul City Tour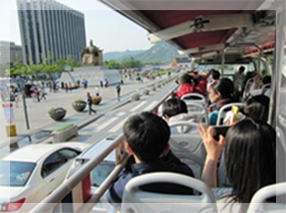 Seoul City Tour Bus offers a pleasant and comfortable tour of Seoul for foreign tourists.
Nestled around the Hangang River is the Korean capital Seoul, a city of old and new. With thousands years of history, it has well preserved royal palaces, historical relics, and cultural treasures, yet state-of-the-art facilities and infrastructures as well. The Seoul City Tour bus runs a course that covers major points of interest in Seoul.